With summer just around the corner, the threat of the Zika virus could be enough to keep you indoors. While mosquitos have become an accepted nuisance of summertime activities, the rapid spread of the Zika virus overseas could become a widespread problem if proper precautions aren't followed. Below are some basic facts about the virus, the top areas that could be affected this summer and the number one way to help prevent the spread of the Zika virus.
1.      The virus is primarily transmitted via infected Aedes aegypti (Aye-dees uh-gyp-tie) mosquitos, but can also be sexually transmitted.
2.      Currently there is no vaccine for the Zika virus.
3.      Mosquitoes that spread Zika are most aggressive during the daytime but also bite at night.
4.      The symptoms of Zika virus are pretty mild and up to 80% of those infected won't have any symptoms at all.
5.      The most common symptoms are fever, rash, red eyes, headache and muscle or joint pain, typically lasting from 2-7 days.
6.      Unborn babies are most at risk with the biggest risk to adults being Guillain-Barre Syndrome.
7.      The virus is brought into the US by those traveling abroad.
8.      Mosquito control can help prevent the spread of the Zika virus.
Researchers looked at 50 U.S. cities where the weather could support Aedes aegypti in warmer months. Based on that research they are able to predict the level of risk to those 50 cities and when the risk will be the highest.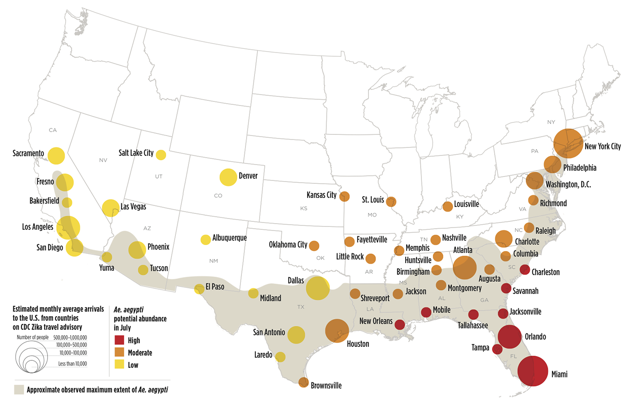 • Yellow dots are low risk, orange dots are moderate and red dots are high risk.
• The size of the dot represents how many travelers from Zika-affected countries come to the city on average each month.
• The gray zone represents the area where Aedes aegypti has been observed in earlier years.
The researchers examined a number of factors from past data; based on those factors, they were able to determine that by mid-July all 50 cities on the map above are meteorologically suitable for Aedes aegypti. Charlotte has three main factors that could threaten it this coming season. The fact that Charlotte is at moderate risk combined with the higher risk of surrounding cities, we could see a spike in Zika cases this year. However, the one factor that the models don't account for, is mosquito-control methods. There is still time to decrease your risk by spraying for adult mosquitoes, using larvicides and eliminating breeding sites like standing water.